It has been quite a few weeks since I last wrote a piece for this blog. My life has become rather busy of late. As well as working throughout lockdown, I am dealing with family illness, a diabetic cat and a great deal of house alterations.
I had welcome relief from everything with the occasion of my fifty-first birthday at the weekend. My husband went to immense trouble to celebrate the event. We were unable to go to Goldsborough Hall, as we did last year and so my husband brought Goldsborough to us with a spectacular family meal and many wonderful gifts.
I thought that I would write a blog post of some of my favourites over the past few months. This is not an advertisement or promotion. These are items I have purchased with my own money and I genuinely like them. I am recommending them to you in the same way I would recommend to a friend.
Although I am quite fortunate to have inherited good skin, I am now at an age when I need more hydration. This is especially necessary at night because I sleep with a fan on – even in the winter. I think I have mentioned before that my childhood hypersensitivity returned a couple of years ago. I have always had sensitive skin, but hypersensitivity has meant that I have had to stop using products I have used for many years. I am unable to tolerate most night creams or serums since they frequently contain ingredients which cause irritation.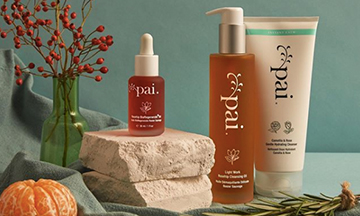 I came across Pai skincare through Jo Good's Middle-Aged Minx videos. I was interested in the skincare because it was founded by Sarah Brown, who has hypersensitive skin herself. Pai products are all made with organic ingredients. As the company states, their organic products are formulated with hypersensitive and reactive skin in mind and contain natural anti-inflammatories and skin-strengthening omegas. Pai's Instant Calm range helps to soothe and prevent future flare-ups. Their formulas are free from synthetic and natural parabens, drying alcohols and detergents, and common skin irritants.  I have been using Pai since lockdown began and I am really pleased with the improvement in my skin, as well as being able to use something which does not cause a reaction. The range also helps people suffering from acne, rosacea, eczema and psoriasis.
The products which I have used are
Chamomile & Rosehip Calming Day Cream– I use this daily as a moisturiser on my face.
Back to life Hydration Serum – I use this at night about four times a week.
Rosehip BioRegenerate Rapid Radiance Mask+ Cloth I use this once a week.
I tried Pai's rosehip bioregenerate oil but I didn't find it that good whereas my husband really likes it.
Emma Hardie Brilliance Facial Oil
I originally received a sample of this in a Marks and Spencer Beauty Box.
I loved it and I have bought it several times since. It is expensive but I use it once a week at night. You can really tell the difference. I also use it on my hands where I have small patches of eczema.
I saw a recommendation for Karen Timson's fine fragrances on a recent I Scent You a Day blog post. Karen Timson is an Independent UK perfumery creating small batch artisan fragrances. Her tag line is "luxury fine fragrances. Unique blending of bright modern scents with roots based in the traditional."
Karen has created Hermia and Pendragon. Hermia is named after the independent, and fiery character in A Midsummer Night's Dream. It is sharp and citrusy with undertones of fern. Pendragon meaning chief of warriors, is still citrusy but with an element of leather and wood. Both fragrances are incredibly long lasting and almost have an addictive aroma since I could not stop sniffing them on the back of my hand. I think Pendragon is more of an evening fragrance, whereas Hermia is a scent for the daytime and would be a great spring or summer fragrance.
You can order samples of the fragrances and just pay £3.99 for postage and packaging. Karen also runs a service in which she can create for you a unique scent for a special occasion such as a wedding or even just for those of us who love perfume and want to wear something exclusive.
I was eager to see this film. I can recall in the 1970s that my mother, who was an ardent feminist, used to love watching the televised Miss World contests just to see if any feminists protested during the competition. This film deals with the 1970 Miss World competition. The event was disrupted by protests from Women's Liberation activists and was notable for awarding the title of Miss World to Miss Grenada; the first black winner. It also featured both black and white competitors from South Africa.
Until the seventies, many felt that beauty contests were harmless because they aesthetically glorified women and were a guaranteed route to stardom for many aspirational girls. However, as the Women's Liberation Movement gathered momentum, it became apparent that beauty contests were another way to subjugate women and the film does not shy away from showing how these were much akin to a Cattle Market with women being judged entirely on their vital statistics and how they looked, rather than by their intelligence or position in life. The expectation of the male patriarchy at this time was that women should look pretty and keep quiet. Yet men were never judged on anything so superficial. Men were meant to dominate, be intelligent and be paid more.
I really enjoyed the way in which the film represented both sides of the beauty pageant argument. As much as the film considered the exploitation of women, it did not shy from presenting the counter argument that without these competitions, some women would not have been able to break free from poverty and racial prejudice in their native countries. The winner in 1970, Miss Grenada, eventually went onto become a successful broadcaster and diplomat.
It is rare for me to be able to sit still and focus completely on a film, let alone spend the full ninety minutes absorbed in the action. And yet I did. In fact, the fast pace of the action meant that the hour and a half passed rather too swiftly. There were some great performances including Keeley Hawes as Julia Morley and Greg Kinnear as the misogynous and utterly sleazy Bob Hope, with Lesley Manville as his long-suffering wife, Dolores.
Acorn TV is a new subscription service available through Amazon Fire TV and Apple TV along with Roku. It is currently showing the sublime two series of Mapp and Lucia originally produced by London Weekend Television and first shown on Channel 4 in 1985 and 1986. Based upon the hilarious books from the 1930s by E.F.Benson, and set in the  fictional Sussex coastal town of Tilling-on-Sea, the series was filmed in Rye  and neighbouring Winchelsea. It starred Prunella Scales as Mapp, Geraldine McEwan as Lucia, Nigel Hawthorne as Georgie, and Denis Lill as Major Benjy.
Each episode features amusing incidents in the lives of an assortment of upper-middle-class British eccentrics, in an atmosphere of extreme cultural snobbishness, who compete for social prestige and are always trying to outsmart each other with hilarious consequences. I absolutely love the books, as well as this interpretation. Both  Prunella Scales and  Geraldine McEwan are exceptional in their roles and they are ably supported by an equally skilful cast.
The Sphinx
For many years I have admired Hugo Vickers. He is THE Royal Expert and possibly our greatest biographer. His books are such a joy to read and the latest is an updated biography of Gladys Deacon, Duchess of Marlborough.
Gladys Deacon was an incredible beauty, who inspired some of the greatest literary and artistic names of the Belle Epoque. Marcel Proust wrote of her, 'I never saw a girl with such beauty, such magnificent intelligence, such goodness and charm.' Rodin and Monet befriended her, Boldini painted her and Epstein sculpted her. Assorted Dukes and Princes fell in love with her.
In 1921, when Gladys was forty, she realised her teenage dream of marrying the ninth Duke of Marlborough, who had recently divorced Consuelo Vanderbilt. However, her life at Blenheim was far from content. She was evicted by the Duke in 1933 and the only reminder of her time there were two sphinxes bearing her features on the west terraces and mysterious blue eyes in the Grand Portico. Gladys eventually lived as a recluse, her beauty ravaged by time. Her last years were spent in the psycho-geriatric ward of a mental hospital, where she was discovered by a young Hugo Vickers. He visited her over the course of two years, eventually publishing Gladys, Duchess of Marlborough, a biography of her life – and his first book – in 1979, two years after Gladys's death.  Forty years on, the original biography has been rewritten and revised. This brilliantly-researched book is a fascinating insight into a remarkable character and a unique period of time.
And finally ……
I was very fortunate to have an article about the life and work of  Princess Mary entitled, "A Quiet Devotion to Duty" featured in this month's edition of Majesty magazine.  It is now available in newsagents and supermarkets.