Hypocrisy and Negativity during Lock-down. 
This weekend The Times published an article written by the incredibly successful writer, Caitlin Moran. I'm quite a fan of Caitlin's writing myself. Her honesty and lack of pretension are usually refreshing. Caitlin had written a piece concerning how she was finding isolation easy since she grew up in a chaotic household with many siblings and a menagerie of pets. On the surface it seemed a great post. It's vital that the media enable us to get through these challenging times with some positivity and this post was uplifting and humorous. However, not long after the post a neighbour of Caitlin's took to Twitter to declare that Ms Moran may be finding lock-down easy because she wasn't exactly sticking to the rules and had been seen partying at her neighbour's house. Ms Moran made no comment and her guilt was evident from her silence on the issue. She was accused of setting a bad example and more than anything else of being hypocritical and a devotee of the adage, "Do as I say, not as I do."
Following the First and Second World Wars, many people were judged for how they had responded to such challenging times. The well-known poster, "What did you do during the War Daddy?" was designed to encourage men to sign up for active service based upon the guilt they would feel afterwards if they had not done their bit to contribute. It worked. Furthermore, I can recall my Grandma talking disparagingly of another woman who had been known to entertain American troops in England whilst her husband fought overseas. This was a good thirty years after the War. People will remember. And in the same way, people will remember how we all responded to the current crisis for years afterwards. I am not saying that you should do something altruistic merely to stop people saying horrible things about you in the years to come, but I do believe that many people in the public eye need to consider how they currently behaving because of the influence their actions will have on others.
Of course, we are learning that the real heroes of this virus are understandably the NHS doctors, nurses, workers, pharmacists and carers who put their lives daily on the line and go to work to fight the virus. So too are the cleaners, and administrative staff who work in hospitals and care homes. They are truly the soldiers on the front-line doing their utmost to combat this disease. It is a terrible virus and it has to be one of the most cruel ways to die. We see videos of families who are unable to say goodbye to their loved ones or hold their hands as they die. There are other heroes such as delivery drivers, supermarket workers and refuse collectors who are doing their utmost to ensure that everyone is fed,  rubbish is taken away and urgent food and medical supplies reach their destinations. I am sure many of us have begun to question why as a society we put so much store on celebrities, footballers and influencers, when this crisis has shown us that it is often the least-paid members of society who are most valuable in our times of need?
There are, however, some people who, whilst their work is not as essential, are doing every little they can to help people in isolation to manage better. One such example is the chef John Torode. Every day he uploads a video with his wife, Lisa Faulkner, showing how to make simple family meals with a minimum of ingredients or store cupboard essentials. The videos are light-hearted, but they provide some excellent ideas for families who undoubtedly are struggling to come up with new meal plans. The Arts are also struggling during this crisis. The National Theatre has started to release recorded versions of its plays onto YouTube to entertain. Gareth Malone has been delivering choir lessons on YouTube to bring people together. David Walliams has reecorded audio versions of his books. Joe Wicks has produced daily P.E. sessions. Gary Barlow does a Skype duet daily. There are online learning platforms offering languages to learn, and free courses. Some restaurants are delivering free meals to NHS workers and hospitals. I've seen teachers offer advice concerning educational resources and council workers, who would normally work in leisure centres reassigned jobs such as delivering to the elderly and vulnerable and tending cemeteries. There is so much good out there and so many examples of people helping each other, without wanting to be rewarded.
Yet not everyone is as selfless. For quite some time my husband and I have followed a family on YouTube, the family of a well-known television personality. In the beginning, they appeared to be a refreshing change from the usual conceited and greedy influencers. They never received freebies and they were down-to-earth, even if they were somewhat chaotic and disordered. As the coronavirus began, they announced that they had been taken on by an agency who are known for their partnerships with influencers. Their followers have increased from a very modest couple of thousand to over a hundred thousand. They then began an onslaught of daily videos claiming to be assisting people throughout the crisis, advising on how to wash hands, how to social-distance and how to cope with mental health during lockdown. Yet their information on which these videos were based, was not provided by a reputable news source, but by reading the tabloids. The titles of these videos speaks for themselves, "Questions we want answering by the government" and "When will lock-down be lifted?" Their videos are not lifting people's spirits, they are scaremongering. They sit in their million-pound house with a huge garden and unlimited supplies, complaining about how awful their lives are in lock-down. Similarly, as much as they lecture people about the need to stick to government guidelines, they happily break the rules themselves. Permitting their teenage daughter's boyfriend to visit, allowing her to have friends over in their garden. They also have an elderly relative who visits at the weekend and in order to do so has to travel on public transport. This is hypocrisy at its finest. Pure and unadulterated hypocrisy. I have seen other influencers complaining that their brand partnerships have been cancelled. Many are continuing to bombard their followers with adverts for non-essential items or are still doing 'hauls' when so many people are facing financial struggles and concerns over their future employment. I've even seen someone ordering cat-beds from China. Since when were these essential items?
I've seen so many celebrities and influencers moaning and complaining about lock-down and being forced to clean their own homes or cook their own meals. If you are a nurse completing an eighteen-hour shift, putting on protective clothing which causes your skin to bruise and then barely seeing your family, you have every right to moan. If you are a single parent trapped in a high-rise flat with three toddlers and no garden, then you have the right to moan. If you are sat at home wondering what next to watch on Netflix and having to relax in your garden or by your swimming pool for hours at a time, then you have no reason to moan at all.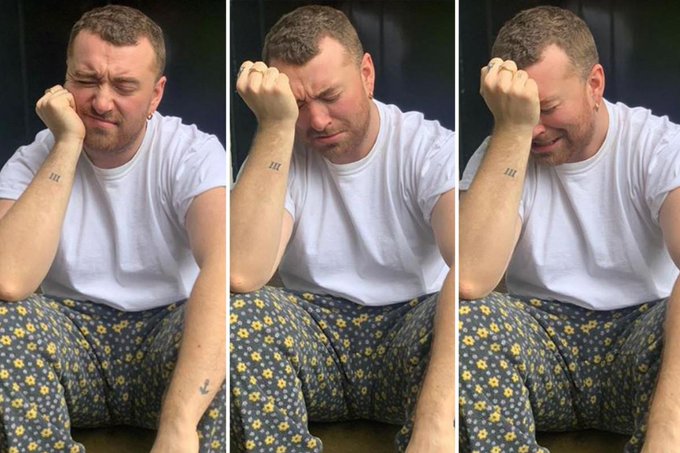 I've heard endless criticisms of the government. Oh, they should have done this sooner. They should have done that. When are we going to come out of lock-down? Surely, we can't be in lock-down much longer? Now, is really not a time for party politics. Now is a time for acceptance of our lot. It is the key to survival.
Switching our thinking to a positive mental attitude is what is going to get us through this. I have already said that it is our response to this situation which is paramount. If all of your time is taken up with complaining and moaning, then it is only going to create a relentless negative frame of mind. Stick to the guidelines and not be hypocritical. More than anything else we need to remember that nothing is forever and one day we will look back on this time. "What did you do during the coronavirus Granny?" "I did what the Government told me to do. I slowed my life down, I learned to appreciate all the good things in life. I spent time with my family, I read, I gardened, I cooked, I watched TV, I stroked my cats. But most of all I remained positive because there were many people who had it far harder than me."
Just think about it. It really isn't that difficult.