There was such utter heart-breaking news at the weekend, when it was revealed that the very well-known television personality, Caroline Flack, had taken her own life. When I looked at her Instagram page, she seemed so alive and full of joy and talent. Only a few months ago, she appeared to be at the pinnacle of happiness; her life was something that most of us could only ever dream of. On the surface she appeared to have it all; an amazing career, lots of friends and family to love, beautiful trips and experiences; hers was a life she was living to the full. Or so we thought.
But life is so fragile and can change in one simple second. 'Life is what happens to you while you're busy making other plans' John Lennon once wrote. There is no greater truth. Almost overnight in December last year and following an incident in her personal life, Caroline's world had crumbled, and she must clearly have felt in such a dark place when she chose to end her life on February 15th. Caroline's suicide is deeply sad since we do not just feel sorrow for her, but for her family too, especially her siblings and her parents. How do you recover from your own child's death? How do you live knowing that you could do nothing to save them? There are so many what ifs? What if I had called her that morning? What if I'd popped around and checked up on her?
When someone takes their own life, it seems so incomprehensible to us that we inevitably look for answers. We seek to justify why it is that someone felt they had no other option than to die. The newspapers have reported that Caroline was driven to such an extreme because of the media circus surrounding a recent court case in which she was accused of assaulting her partner. The court case meant that she was banned from contacting her partner, even though he did not agree with the prosecution. It must have caused such desperation, especially when her partner posted a photograph on Valentine's day saying how much he missed her. As a result of the trial, there have been accusations levelled at the CPS for relentlessly pursuing her case. Others have declared that her employer ITV failed to support her at such a difficult time, especially since they have shown such empathy and understanding for male celebrities facing challenges in their personal lives. There have been reports of trolling, along with criticism over deeply unpleasant stories written about her in the Media and on social media. There have been rumours that she was struggling with her mental health and had been prescribed anti-depressants. There have been accusations on Twitter and Instagram from previous boyfriends and suggestions of repeated patterns of behaviour being exhibited.
Not one of these issues is the sole reason for her death; it is more likely to be a combination of them all. In truth we may never know for certain, because as much as we may believe that we know Caroline, someone's public persona does not define them.  We really have no idea what someone in the public eye is dealing with. Suicide is such a complex issue. Someone does not just kill themselves because of one factor. All of these issues combined, may have placed Caroline in a situation where she saw no way out. For her, life no longer offered any reason to carry on living.
Matt Haig is someone who has written extensively about mental health. His book, Reasons to Stay Alive concerned how he dealt with depression and anxiety and how he fortunately managed to come back from the precipice of suicide. When I was looking at Twitter over the weekend, this quotation from his book stood out as a way of understanding how to quash those suicidal thoughts. It shows how it is the small things in life that can give us the greatest happiness and how in seeing the simple positive daily experiences, we can begin to emerge from the depths of the suicidal pit.
"You will one day experience joy that matches this pain. You will cry euphoric tears at the Beach Boys, you will stare down at a baby's face as she lies asleep in your lap, you will make great friends, you will eat delicious foods you haven't tried yet, you will be able to look at a view from a high place and not assess the likelihood of dying from falling. There are books you haven't read yet that will enrich you, films you will watch while eating extra-large buckets of popcorn, and you will dance and laugh and have sex and go for runs by the river and have late-night conversations and laugh until it hurts. Life is waiting for you. You might be stuck here for a while, but the world isn't going anywhere. Hang on in there if you can. Life is always worth it."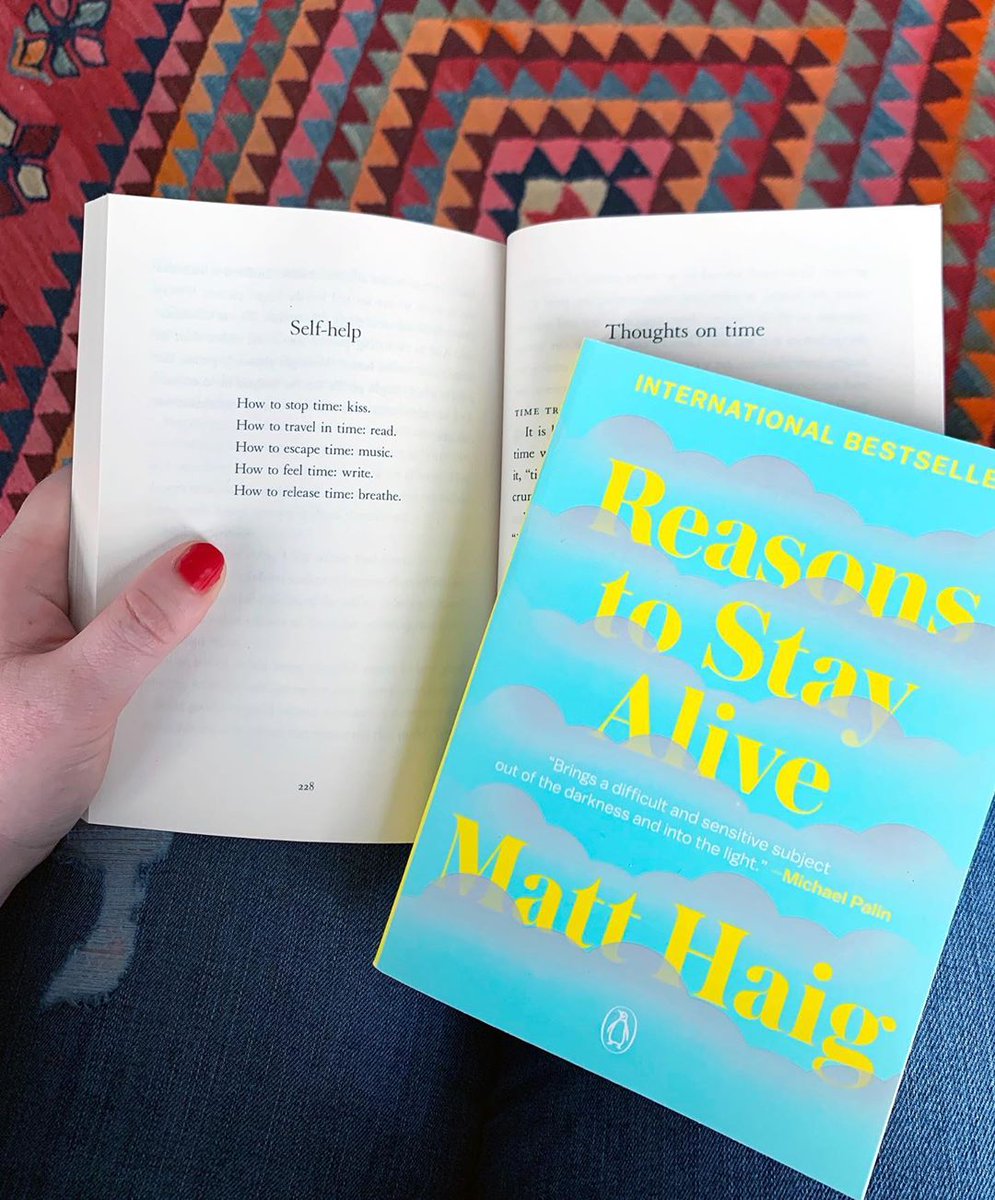 I do not know if Caroline ever saw this quotation. It is intelligent words like this that can truly help to heal mental health struggles, because they offer a means to understand. For when someone is so deep within their despair, it can be pretty much impossible to see a way out. There is no doubt that life can be challenging at times.
Inevitably, there has been an immense outpouring of grief following Caroline's suicide. No one could fail not to be moved by some of the beautiful tributes that have been placed on social media for her. Many of Caroline's friends and colleagues within the entertainment industry have spoken of what a kind and lovely person she was. These tributes are genuine and touching. Furthermore, they show the extent to which her passing will be mourned. Laura Whitmore, a presenter who was also a close friend of Caroline's, struggled to hold back her tears yesterday, as she carried on with her radio show, since she believed that is what Caroline would have wanted. Caroline's boyfriend has spoken of being heartbroken. There have been intelligent calls to look at such issues as press intrusion and debate concerning the stress that defendants face waiting to go to court. We do need to discuss these issues, but it is tragic that it takes someone's death to push them to the forefront.
However, amongst the tributes and discussions, there have been some posts that have genuinely concerned me, and I know that I am not alone in finding these reactions disturbing, inappropriate and downright selfish. Whilst one may think they come from online trolling; they do in fact emanate from people who consider themselves to be trolled more than anyone; they come from influencers.
At first some influencers published seemingly genuine posts, albeit somewhat clichéd, announcing that their door was always open and their kettle always ready to be put on to anyone suffering from mental health issues, who needed to vent their struggles. It is true that there is still a great deal of stigma surrounding mental health and more conversations need to be encouraged to remove this. No one can argue with this. However, it was soon apparent that a small group of influencers were setting their own agenda and crassly using someone's death to increase their engagement with followers and in short, gain more sympathy.  Whilst such posters were in the minority, their constant hammering for attention became almost deafening because of its insensitivity at such a time.  This small group claimed that Caroline's death was a result of trolling and then proceeded to tell everyone about their own experiences of being trolled and how they were just like Caroline since they too were being pushed to the edge. One influencer wrote a post about how she is involving lawyers and the Police by declaring, that she, just like Caroline, was living in a heightened state of fear. It was not long before these influencers received an influx of messages enquiring after their welfare.
In my opinion, this manipulation of followers is morally wrong. This is an example of the way in which some influencers use mental health to suit their own agenda. Someone is doing this in a blatant attempt to gain engagement and to encourage their followers to massage their huge egos. In addition, there is a vast difference between media personalities and influencers. Just as there is a huge difference between a troll and someone who expresses their views in a considered manner.
Caroline was not an influencer. She did not choose to put every detail of her life online. She was a professional in the public eye. Her social media posts mainly concerned her professional life, interspersed with the odd dog photo and shots on holiday. There are no 'hashtag-gifted' posts. The photographs of Caroline that appeared in the media since her arrest, were intrusive shots of her going about her daily private life, taken by someone surreptitiously with an element of calculated deceit. There were articles in the media that probably had not one grain of truth in them. This is hardly the same as influencers. In fact, most influencers pass beneath the radar of newspapers, except to brag about their freebies and income. What is more, I have seen only a few of the trolling comments Caroline received to know that these are not simply a difference of opinion. Moreover, they are disturbing comments designed to frighten and intimidate. A troll is someone who is full of hate. It is not someone who suggests that you should be considering whether it is appropriate to put images of your children online. There is a distinct difference between someone expressing an opinion and opening up debate and someone who is a troll, who sets out to destroy someone's life.
As someone in the public eye, Caroline would have been aware that no matter what you do, you will always have people who detest the public persona you portray. Whilst I am not excusing this, it is sadly a fact of life. You will always meet people who dislike you for some trivial reason. Influencers do not have a public persona. Their private persona is what they use to make money and herein might lie the real issue. Sadly, influencers love to cry troll at everyone who expresses a difference of opinion and love to claim their mental health is suffering, if they are criticised for doing something wrong. It seems so chronically naïve that they expect their followers only to be kind or leave nice comments in case one wrong word should trigger their mental health issues. I do not know why they do not use their platforms in a far more productive manner. Rather than throw a woe is me pity party, why don't they donate to a mental health charity instead? Or go and see what is the best way to help people who are at crisis point such as volunteering for The Samaritans? Or even encourage people to do so?
Unlike these influencers, I do not want to turn Caroline's death into an increased engagement exercise or ego boost for them. Instead of pandering to influencers, I do think that now is the time to consider and debate how we can put an end to some genuine cases of media witch-hunts. These do seem to be happening far more nowadays and there are endless examples such as Ant McPartland's wife and the Duchess of Sussex, where people in the Public eye have been relentlessly pursued by journalists and paparazzi over non-stories that serve no purpose whatsoever, apart from to disseminate hate. Unfortunately, I do have concerns about how effectively it could be policed and the current trend for a few influencers to cry wolf, does not appear to be aiding the case.
Forty really is far too young to die. I genuinely feel upset to know that someone who still had so much to achieve in their life, killed herself. My thoughts go out to all those who knew Caroline, and for whom her loss has sadly taken some joy away from their lives. It is just so awfully sad.
There is no right or wrong way to talk about suicidal feelings – starting the conversation is what's important.
Samaritans – for everyone
Call 116 123
Email jo@samaritans.org
Campaign Against Living Miserably (CALM) – for men
Call 0800 58 58 58 – 5pm to midnight every day
Visit the webchat page
Papyrus – for people under 35
Call 0800 068 41 41 – Monday to Friday 10am to 10pm, weekends 2pm to 10pm, Bank holidays 2pm to 5pm
Text 07860 039967
Email pat@papyrus-uk.org
Childline – for children and young people under 19
Call 0800 1111 – the number won't show up on your phone bill