This post may be my last post for a few weeks. I am about to go back into the writing zone in order to edit my book. There isn't a huge amount to do, but arguably it is going to be a more difficult task than writing the book.
Whilst I was writing my book, I was very fortunate in having such a supportive husband, who encouraged me to write and took on the mantle of running the household and carrying out all the mind-numbingly boring chores so that I could concentrate fully on writing. Everyone has their own way of writing. For me, I have to be in a zone where I do not have the weight hanging over me of having to be somewhere or do something by a certain time. I do not believe in writer's block, but I do know that I do my best work when I am free to think and mull over ideas and thoughts. I can't write if I know that I have a hair appointment in the afternoon, or I need to prepare dinner by a certain time. Rather than write, I would spend all my time nervously staring at the clock and counting down the minutes until I have to be somewhere or do something. It just wouldn't work. Today I have a really packed day with appointments and so it is a write-off for any editing. I envy those people who can fit in the odd half-hour writing here and there. I really do.
As wonderful and helpful as my husband is at doing chores, he doesn't do them to the same standard that I do. I know this sounds incredibly unfair and you're right, it is. If I clean the house, then I don't just like what is seen to be tidy, I also need the hidden areas to be so, and by that I mean behind and under furniture, inside the cupboards and drawers. I don't like piles of ironing building up and if I see a mark on something, I can not just leave it to clean later. It has to be done now. Bedsheets have to be cleaned after so many days, certain tasks carried out daily, and others weekly. If you think that I am proud of being tidy and over-zealous with cleaning, then I am not. I would much prefer to be laid back about such things because then I wouldn't get as stressed as I do.
Towards the end of writing the first draft of my book, I felt as if I was drowning under the weight of all the minor chores that I had not done. I couldn't cope with the fact that I hadn't sorted my wardrobe out and the doors wouldn't close properly. I hadn't pulled out the bedside cabinets and vacuumed behind them. I hated the drawers in the dresser looking as if they were about to burst with paperwork that needed sorting. The sheets in the airing cupboard had not been ironed and folded properly and were arranged far too haphazardly. Therefore, over the Christmas period, I spent a great deal of time having a really good clear out of everything as well as a deep clean. I think my husband must have been to the recycling centre nearly every day of the festive season. When everything was sorted, I felt much better and as if I was back in control of the house instead of it being out of control. It was like an unruly animal that needed to be tamed.
I am aware that this portrays me as more than a little bit neurotic and believe me, I wouldn't mind learning how to develop a laid-back attitude about the state of my home. How wonderful would it be to be that person who doesn't care about that tiny black mark on the carpet, or the slight sprinkling of dust on the ceiling light? Is it really so bad to be this way?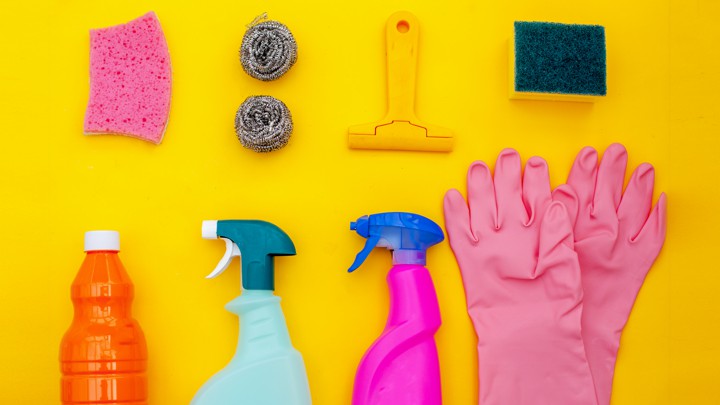 In some ways it is vital for my home to be clean and dust-free since I suffer from allergies and household dust causes a great deal of discomfort for me. Furthermore, a recent study by Time For You found that there is a link between the cleanliness of our home and our well-being. It cites the sensory benefits of clean scents, the feel of freshly laundered furnishings and the satisfaction of seeing things in order. If you try to relax when your house is a mess, you will undeniably find it difficult to unwind because there is still work to be done.
A further article in the news also mentioned that there is considerable evidence of a correlation between the tidiness of our homes and our mental and physical health. Without excess items in the home, a person has more room to think clearly. According to the lifestyle blog Bed Threads, decluttering our homes can improve our productivity and even our physical health. Marie Kondo, a Japanese author, has recently led a revolution in how we organise our possessions in our home, informing us that we should only keep things which spark joy or enhance our daily routine. This is much the same belief as the great textile designer of the Nineteenth Century Arts and Crafts movement, William Morris upheld, "Do not have anything in your house which you do not know to be useful or believe to be beautiful." There is also undoubtedly a link between clutter and finding it hard to let go of the past.
I find it frustrating that I have never had much patience and perhaps that is why I struggle to put things off. It all has to be done now. One thing is for certain though, my inability to ignore the mess creates stress and anxiety that I could do without, especially when writing a book. I do need to force myself to accept that some things can be done later and perhaps I am starting to learn how to do this. Planning and list making is beneficial, so too is delegation and accepting that there are times when not everything can be perfect.
Anyway, I had better go and get on with my packed schedule of appointments. Though before I do, there's a very hazy, grey smear on my kitchen window and I really must give it a wipe.
See you soon!