I am currently working on a significant post as a special Christmas treat. Unfortunately, I have also developed a dreadful head cold and so my brain feels somewhat mushy today and I am struggling to write much. Today, I wanted to mention a television series available on I-Player entitled Shrill. I think that it is well worth a watch even if, like me, you just want to watch something to escape the darkness and cold of December in England.
I rarely watch American television shows. A couple of weekends ago, we were looking for something to watch that was relatively light hearted, no heavy drama, just a nice and easy show to watch on a lazy Sunday. I came across Shrill on the I-Player and was instantly drawn to it, as what can be better in the cold, dark winter than watching a bright and sunny show? Shrill is based very loosely on Lindy West's memoir: Shrill: Notes from a loud woman. Lindy West is an American writer, comedian and activist. She is a contributing opinion writer for The New York Times and tends to write about such topics as feminism, popular culture, and the fat acceptance movement.
Shrill is a light comedy / drama series starring Aidey Bryant as Annie Easton. Bryant is incredibly likeable as Annie: an overweight, struggling young journalist, who is determined to change her life without changing her body. Her boyfriend is deeply unpleasant and treats her like dirt, forcing her to leave his house out of the back way to avoid his house mates seeing her. Annie also has a sick father and a mother who is constantly trying to get her to lose weight. The most unpleasant man in Annie's life is her controlling boss, who is also a highly-strung perfectionist.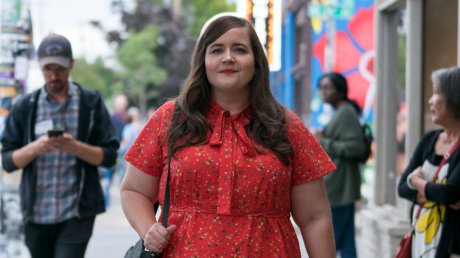 The programme over the course of the series shows Annie's metamorphosis into a much stronger woman, who finally is able to exert her own opinions towards the people who continually try to control her. At the start of the show no one accepts Annie for who she is; everyone wants her to change. It is only when Annie asserts herself and proves herself to be a success that she is accepted.
This show is certainly far more fluffy and light than most feminist or fat acceptance shows. The message is not forced and is adeptly weaved into the fabric of the show. I enjoyed the series far more than I expected and it is certainly one I would recommend.  It is a refreshing change to see an overweight lead character, who does not believe that she needs to lose weight in order to fit in. In fact the show is more focused on Annie's  family and friends learning to accept that her weight does not define who she is than anything else.