This is part of my #HonestReview series. I can be honest as I bought this book with my own money!
As a writer, I think that it is always important to champion other writers. I write mainly non-fiction and thus I am always in awe of people who have the gift of being able to write prose. This week has been immensely busy with book research and I have barely had time to sit down, let alone read. However, I came across the writing of Laura Gentile in her book, Within Paravent Walls and I found myself unable to put the book down. 
The quality of prose is outstanding, and I instantly thought that I was back at University studying French literature, since her writing was reminiscent of Flaubert and Zola, albeit in English. It is said that Flaubert, who wrote Madame Bovary, would spend hours, if not days, mulling over the correct word to use in his prose. Laura's writing is so flawless, that I can imagine her doing something similar. If you have not come across Laura yet and you love reading classic literature, then you will appreciate her book.
Laura is a remarkable writer with immense talents. In short, she is a creative powerhouse. She speaks no fewer than five languages and puts her linguist abilities down to growing up in Luxembourg. Along with her website, Laura publishes articles, poetry and short stories; sings soprano at the King's Theatre; describes herself as a cine-bibliophile; hosts a radio show about literature, films, music and art; and has Master's Degrees in English Literature, Film and Visual Culture.  Laura believes that, "Literature, film, art and music are interdependent and influence each other."
Laura has an exquisite website and illustrates her writing with paintings that further reinforce her aesthetic skills.  Most of the paintings are from the end of the seventeenth and eighteenth centuries with an emphasis on decadence and Fin de Siècle portraiture or themes. This makes for a website that has a unique style. It draws the reader into a world of opulence and intellectual fervour. Her website is called 'Croquemelpomene'. Croque comes from the French phrase 'croquer la vie à pleines dents' meaning to live life to the full.
Melpomene is from Classical mythology and is one of the nine Mousai – meaning muses. She is the muse of tragedy. According to Laura, "Melpomene was raised  amongst female creativity, solidarity and strength…She metamorphoses misery into art, making the absolute best out of everything. Taking hurt and making it a glorious wound. Narrating and giving a form to thought… She takes advantage of all the facets that life throws at her and makes them count. She is moulded by everything that comes her way, be it tragedy, comedy, romance, success, hardship, failed relationships, adventures, life and death. She finds an artful outlet and grows. This is Melpomene in the 21st century. Facing everything that matters. She is a woman of substance. Melpomene unmasked. She is a woman celebrating her achievements, perseverance, vocation, passion, creativity, dreams and her life. She inspires and lets herself be inspired. "Croque-Melpomene" means celebrate with her, join her, be inspired, be creative, have an appetite for life and art, for yourself. Give birth to your visions and make it happen. Be your best self and participate in her creative and life-affirming sisterhood." It is such a potent affirmation for creativity.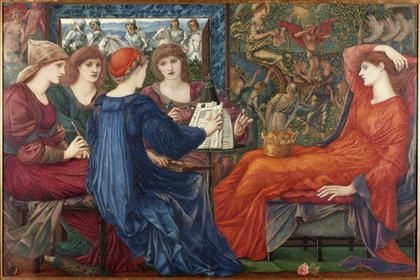 Within Paravent Walls depicts the tale of Estefania Viennese and Severin vin Zweighaupt and their toxic love for each other. During Estefania's pregnancy with triplets, her mental illness returns, and we see a family engulfed by dysfunction. I began reading this book quite late at night, with a view to reading only a few pages. However, it was not long before I was drawn in and found myself unable to put the book down. Laura's style of writing is inspired and so beautifully crafted. As many people have mentioned in reviews, this book is more a work of art than a mere story. It has elements typical of the Romantic-Realist movement of the later Nineteenth Century. Whilst many books I read these days are equivalent to fast food, this novel is the Chateaubriand of literature. It is opulent and daring; testing our own ethics and beliefs and never shying away from augmenting our own understanding of the human condition through such themes as sexuality, deprivation, sickness, memory, identity and death.
Laura's book has been published by Joseph Jones at  WiDo Publishing who has said of Laura's work, "She doesn't follow your typical narrative rules, but her story and style are engaging and poetic. "
You can read more about this gifted writer here.
The kindle version of Laura's novel is currently under four pounds on Amazon. 
The paperback is priced at £16.95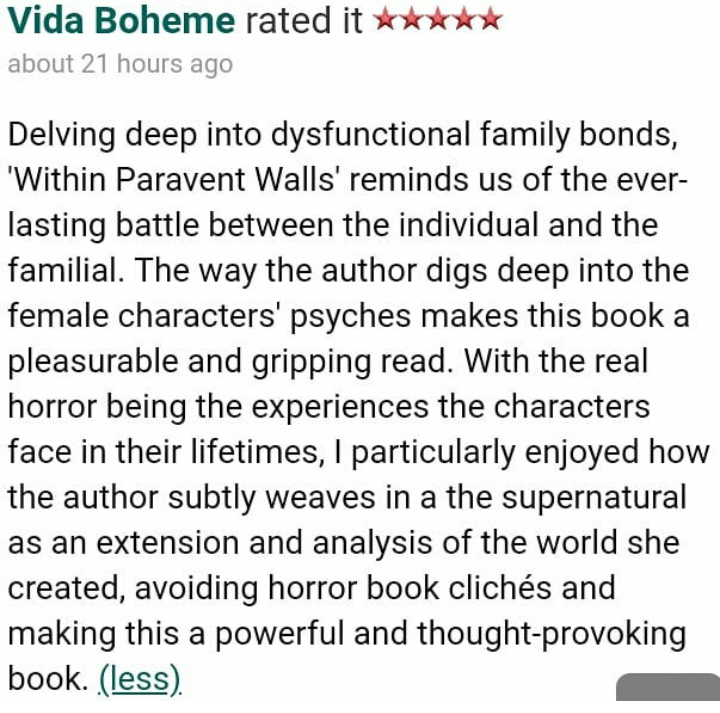 WHILST YOU ARE HERE
I set up this blog to showcase my writing. You will never find paid-for editorials or affiliated links on this page. I do not wish to make money from my blog and I do not wish to receive any money from the people who read my blog. If you see the hash tag #honestreview then I have bought something with my own money and I am reviewing it honestly.
It really helps me to develop as a writer, if my readers engage with me. If you have enjoyed reading one of my posts, then please give it a like or feel free to leave a comment. If you would like to follow my blog, then you can do so by clicking the follow button. The follow button is located on the bottom right hand side just after a Close and Accept button. Or you can send me an email at ejaleigh@yahoo.co.uk
Thank you for supporting my blog and do feel free to share any of my blog posts on your social media.                                                   
Elisabeth.