I grew up in the television generation. Television was always treated as something of a bad influence during my youth and I can remember having to write many discussion essays in my English lessons about the advantages and disadvantages of television. My mother monitored my television intake and would never allow us to watch any programmes on ATV, as it was called back then. My Mother erroneously believed that ATV stood for American Television. I spent much of my youth doing ballet and so I can not say that I watched that much television. When I did, it was often comedy shows with my Dad such as "Whatever Happened To The Likely Lads", "Dad's Army", "Steptoe and Son" and of course, "Morecambe and Wise."
In my youth there were only three television channels and then in 1982 we had Channel 4. Today there are hundreds of channels and many different ways to watch television. So, you would assume that there is always something that I can watch. Sadly, this is not the case. I can count on one hand the number of television shows that I have watched and enjoyed in the past year.  I struggle with dramas as I always find them too slow. I quite like documentaries and occasionally I will enjoy a bit of true crime. ITV dramas are a definite 'no', as I can usually work out who did it, in the first half hour. I used to love Coronation Street when it was character-led with such grande dames as Bet Lynch and Elsie Tanner. Now it is all issue led and I just find it boring.
You might think that I am happy about this, as at least it means that I spend my time reading instead. However, I am far from content. Sometimes, when I am tired, I just want to veg out and watch something good on the box. I read and write a lot and so on occasion, I just want to do nothing and switch off. I am envious of my husband since he can watch anything and enjoy it. He's an early riser and he will often lie in bed catching up on the latest Netflix series. I wish I could work out what the formula was for finding something I enjoyed watching. If I did, then perhaps I could finally start to find some shows to watch? I loved the very first series of Fleabag, but I could not watch the second series because there was too much in it that reminded me of confrontations with my mother as a child.
Last night, by chance we came across a sort of comedy / light-hearted BBC3 show about a woman, Miri Matteson, who leaves prison after committing a murder and tries to get back to 'normality'. It was called Back to Life. The series follows Miri's first few weeks out of prison when she is trying to lead a normal life. She attempts to rekindle old relationships, make new ones, forge a career and readjust to life, while hoping the world will finally forget what happened. The idea came from lead actress and writer Daisy Haggard's idea about, "how hard we are on a woman who's done a bad thing in comparison to how we treat men, and an imagining of what leaving prison would be like, and how hard it would be to rebuild your life in your late thirties in a small town where you've done this thing."
We ended up watching the entire box set of six episodes, which must be a record for me. The show was a gentle comedy, not fast paced at all. Like Fleabag- it had a main character who was flawed and a social outcast. The acting was superb with the great Geraldine James playing the character's Mum, along with a stellar supporting cast of Richard Durden (Brexit: The Uncivil War) as Mimi's recycling-obsessed father Oscar, Adeel Akhtar (Les Misérables) as next door neighbor Billy, Jo Martin (The Long Song) as parole officer Janice, Jamie Michie (Game of Thrones) as first love Dom, Christine Bottomley (The End of the F***ing World) as ex-best friend Mandy, and Liam Williams (Pls Like) as chip shop owner Nathan.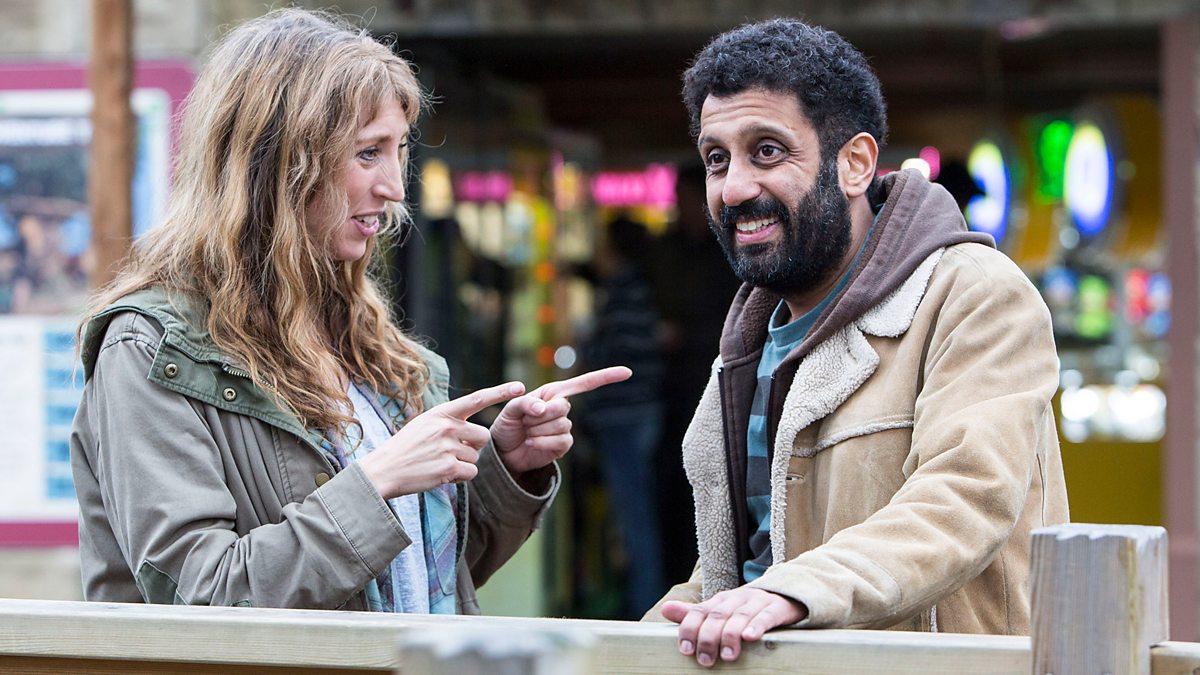 I think what I am looking for in a television show is something that will make me think. Here was the heroine, banished by society and hounded because she had murdered someone. Yet, despite this, I felt that I could empathise with her. There was evidently a lot of raw emotion, here was the very baseness of the human condition. Sex was just a bodily function and friendships were complicated and punctuated with bitterness and regret. It wasn't funny in terms of hilarity, but it was funny in some of the situations and reactions from other people in Mimi's life, especially her father Oscar and his recycling obsession. More than anything, this programme made me think and it held my attention for the full  three hours of the box set. Over the course of the series, the characters grew and altered. Mimi became stronger and we saw that although she was an outsider for her behaviour, in many ways she was the only person who could see the truth. The character evolves from being the guilty one to becoming a victim. There is a subtle shift but it works.
I would thoroughly recommend this television programme. It is available on the I-Player and more importantly, you know if someone as difficult as me can endorse it, then it truly must be good!