Can you Ever Forgive me?
Film Review: Five Stars
Director: Marielle Heller  
Melissa McCarthy and Richard E Grant
If you only see one movie this year, then make sure that you see this. For once all the hype surrounding this Oscar-nominated movie really is justified. I thought it was an absolute master study in acting and film-making.
The film is based on the true but little-known story of Lee Israel played by McCarthy. Lee was a writer of biographies and had some success with her books on Tallulah Bankhead and Dorothy Kilgallen. The later was on the New York Times Bestseller List. However, Israel wrote a biography of Estee Lauder that flopped. The film begins when Israel's success has dried up. She is a foul-mouthed, penniless, alcoholic, and prefers the company of her ailing cat rather than people. Israel thinks that all her problems will be resolved if she can get an advance for a new biography on Fanny Brice.  Of course, this doesn't happen and instead she comes across Richard E Grant in the role of Jack Hock, a drug dealer who presents an air of confidence when in truth he is deeply flawed. An unlikely friendship develops based upon their inability to be accepted.  Israel finds an old letter in a book on Fanny Brice. She sells it to bookdealer Anna, who suggests that the letter would be worth more if it had more intimate details in it.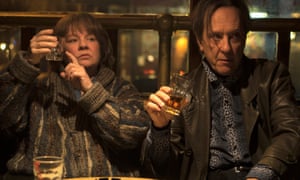 Desperate times call for desperate measures. Israel hits upon the idea of forging letters from well-known writers such as Noel Coward and Dorothy Parker, in order to sell them and support herself and her cat. The project takes off, she starts to make decent money from her forgeries, and she acquires a range of old-style type writers to make her work more genuine. Yet ultimately this is a crime and crime can not be allowed to go unpunished. Originally Julianne Moore and Chris O'Dowd were to play the lead characters, but I am so pleased that this never happened as McCarthy and Grant are perfect for their roles and have such genuine onscreen chemistry. Richard E Grant is adept at playing someone who boarders on the edge of insanity yet still maintains ineffable charm. McCarthy is equally superb in her role. As much as Israel is gruff, obnoxious and bad-tempered, we can not fail to feel compassion for her, and I found myself willing her to get away with her crime. The crime in this film is almost incidental to the plot as this is a movie more about human relationships and the human need for love and acceptance.
The ultimate irony of the film is that Israel later claimed that her forgeries were the best writing she ever did. Equally this film will probably go down as McCarthy and Grant's best work. It deserves every one of its Oscar nominations.