The 1960s heralded a new age for cinema with the production of many, what were termed, 'kitchen sink' dramas. These films centred around the social reality of life as part of the working-class. Films such as 'The Loneliness of The Long-Distance Runner', 'Saturday Night and Sunday Morning.' For the first time, these films looked at the struggles of the working-class. They were gritty, without any rose-tinted frames and many focused-on characters with strong working-class accents who lived in or on the peripheries of poverty. They looked at real life in all its bleakness. Themes such as extra-marital and inter-racial sex, unwanted pregnancies, illegal terminations, and homelessness. For once films were shot on the location in which they happened. The Sixties was a time of enormous social change and when we watch these films now, the landscape is one of a Britain long since left behind. This was also an age when you were supposed to accept your fate in life and not try and rise above your class.
I have always had great affection for such films and many of these are up there with some of my all-time cinema greats. I am not sure why, except that my parents used to show me such films and explain how difficult and miserable life had been during the late fifties and sixties. My Father came from a very working-class background. He told me that his mother had been desperate for him to take up a paper round when he was thirteen in order to contribute to the very limited family budget. My Dad tells me that during that period, when midwives would go to the families of the poor, if they saw that they already had a large family and were struggling to eat, the midwife would suffocate the baby away from the parents and then claim that it had been stillborn. It was the archetypal example of being cruel to be kind.
The working-class in those days would often work in low-paid, menial and monotonous jobs in factories. My Grandma and her sister had worked in John Player's cigarette factory in Nottingham, stripping the tobacco. My Grandad worked for Raleigh. The Raleigh Factory is featured in one of my favourite films from the period Saturday Night and Sunday Morning.  Starring Albert Finney in the lead role of Arthur Seaton, it tells the story of a Nottingham factory worker who is having a relationship with a married woman and she becomes pregnant by him. The film was based on Alan Sillitoe's novel of the same name and he adapted it for film. Arthur Seaton is the archetypal angry young man, desperate to escape the repressive system and rebel against the older generation. When this film came out in 1960, many thought that it was so realistic, that it must be a documentary. A little bit of trivia is that my Great-Grandmother lived in the same street as Alan Sillitoe and his family in Nottingham when he was growing up and she even acted as his wet nurse for a time.
Billy Liar may be my ultimate favourite film, ever. I have seen it so many times. It starred the sublime Tom Courtney. The film is based on Keith Waterhouse's book in which Billy Fisher is a young working-class lad who lives with his parents in Yorkshire. Billy hates the mundanity of working as a clerk for an undertaker and spends his time living out extravagant fantasies in which he is a famous comedy-writer. As the title suggests, Billy's lies become bigger and more ambitious as the film unfolds. The film starred the very beautiful Julie Christie in her breakthrough film role. Although Billy seems to get himself in more and more trouble during the film, there is a great deal of slapstick humour. Tom Courtney is so believable in the role, that you just want to shake him and bring him to his senses to stop the huge snowball of lies from exploding and causing utter mayhem.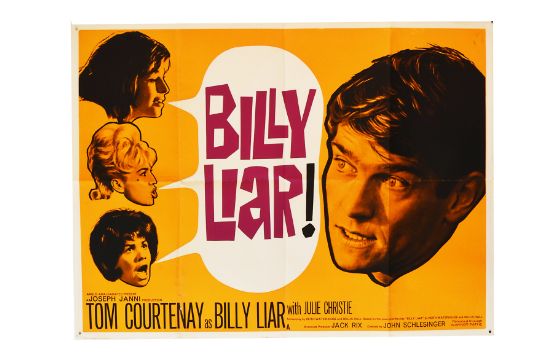 A Kind of Loving stars Alan Bates in the role of Viv Brown, a draughtsman who falls for the beautiful but ice-cold and petulant Ingrid. Ingrid becomes pregnant and Viv is forced to marry her and move in with her domineering mother played by Dame Thora Hird, who was only fifty-one when the film was shot, but appears much older.
Georgy Girl. Starring Lynn Redgrave as the awkward and plump Georgy. This film tells the tale of what it is like not to fit in because of how you look in Swinging Sixties London. Lynn Redgrave's enthusiasm and vulnerability stand out in this comedy drama.
Poor Cow Carol White stars in this film directed by Ken Loach about a young teenage girl named Joy, who makes incredibly bad life choices. First, she becomes pregnant by Tom and they marry. Tom begins to abuse Joy, but he ends up in prison for attempted robbery. Joy then takes up with Tom's associate, Dave, played by the utterly gorgeous Terence Stamp. Sadly, Dave ends up in prison himself and Joy reunites with Tom, only for him to continue to abuse her. The film was a surprising success when it was released in 1967. Like much of Ken Loach's work, it has a documentary and improvisational feel to it, and it was not afraid to look at the more unspoken aspects of family life and marriage.
A Taste of Honey : Staring the very striking Rita Tushingham, it tells the story of a seventeen year old schoolgirl named Jo, who has a very difficult relationship with her alcoholic mother. She meets a black sailor and becomes pregnant. The film was based on a play by the then nineteen-year-old Shelagh Delaney. It was something of a revolutionary play and film, since it is one of the first plays and films to comment on, and put into question, class, race, gender and sexual orientation in mid-twentieth-century Britain.
All of these films are available on DVD if you click on the film title, it will take you directly to the link on Amazon. They are an essential part of social and film history and will remain so for many years yet.