Whatever Happened to The Likely Lads BBC 1973-1976
"In the chocolate box of life, the top layer's already gone and someone's pinched the orange cream from the bottom."
I was born in 1969 and so I grew up during the Seventies; also known as the decade that good taste forgot. The Seventies were characterised by a plethora of brown and orange and synthetic materials. Contrary to popular belief, we didn't all sit around waiting for someone to invent the internet. But our choice of entertainment was pretty limited. From my earliest memories, I could only remember us having three television channels. It seemed like ages before we had a colour television. The older generations continually spoke about the bad influence television wielded on the young, frequently referring to it as, 'the evil babysitter in the corner.' 
My Mother restricted mine and my brother's viewing and it was rare for us to be allowed to watch anything on ATV or American Television as my Mother erroneously called it. I used to be desperate to watch Coronation Street and so I made friends with the kind lady who lived next door but one and would frequently ask if I could go and spend time with her and her budgie. When in truth I wanted to see what Bet Lynch and Elsie Tanner were up to. 
The programmes that have remained with me since the Seventies, have mainly been comedy shows; due to the influence of my Dad. My Dad loved all forms of comedy from Hancock and the Goons to the Carry On Films and sitcoms. I would watch many shows sat on my Dad's lap in our 'back-room' as we called it, with our – yes you guessed it – brown and orange three piece suite. There was The Good Life with my ultimate favourite character: the haughty Margot Leadbetter, It Aint Half Hot Mum, Steptoe and Son and my absolute favourite, Whatever Happened to The Likely Lads? If anything could represent Seventies humour, it was the latter. Written by the sublime partnership of Dick Clement and Ian La Frenais, it was a sequel to an earlier sit-com, The Likely Lads about two working-class young men growing up in Newcastle, Bob Ferris (Rodney Bewes) and Terry Collier (James Bolam). The show in the Seventies was made to show how their lives had diverged:  Bob was eager to cast off his working-class roots, whereas Terry wanted to wear his as a badge of honour. The comedy was mainly centered around the clash between their different classes. Bob with his aspirational fiancé Thelma, constantly trying to better himself with wine-drinking, fondu parties and a new-build on a brand new housing estate and Terry with his woe is me, desperation of the destruction of his working-class roots.
There were two series and twenty-seven episodes, as well as a film and radio adaptations. The early episodes focus on Terry's return to civilian life and this leads onto the build-up of Bob and Thelma's wedding. The thirteen episodes of the second series, aired the following year, are mostly self-contained. However, the second series featured a growing romance between Terry and Thelma's sister Susan. Bob and Thelma also separate for a brief time, mainly because of Terry's influence.
Every year at Christmas I watch the entire two series. I must know just about every line and plot twist but I never tire of the humour. Terry Collier with his hatred of anything that was different, was a great comedy character. In one very funny scene, Terry claims to be a 'Man of the World' from his experience in the army. Bob teases him that his view of the World is bigoted, declaring,
"I bet we could go right around the world and you'd have a pat response ready." (For every nation.) Terry dismisses country after country with one word definitions. Finally he arrives at,
"To tell you the truth I don't like anyone much outside this town. There's a lot of families in our street I can't stand either. Come to think of it,  I don't even like the people next door." 
There were many great lines such as:
"In the chocolate box of life, the top layer's already gone and someone's pinched the orange cream from the bottom".
Bob: "When it comes to women you're hardly Omar Sharif."
Terry: " If Omar Sharif lived in Gateshead, I doubt he'd be Omar Sharif. "
At its peak over twenty-seven million people watched the show. These figures seem incredible when we compare them to viewing figures today. Ant and Dec are huge fans of the series and made their own tribute in 2002, when they recreated one of the famous episodes concerning the results of the Cup Final.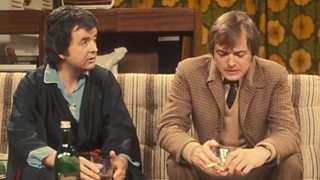 Even Ricky Gervais has claimed that he was influenced by the show when first penning The Office. The costumes and the set may look hugely dated today but the humour remains fresh, pertinent and still incredibly funny after over forty years.