Is someone in your life a lover of the Bronte Sisters and their work? I know that I never fail to mention that I have loved the Brontes and their works since my parents first took me to Haworth at the age of three in the early Seventies. In those days the Bronte souvenir market was just beginning and the Parsonage only had a very small gift shop. Nowadays there is a huge market for Bronte lovers from books, dvds and stationery right through to Bronte biscuits and tea. No longer are Bronte gifts unique to Haworth. There are many items that can be bought from E-Bay and Etsy as well as Amazon and lesser-known independent sellers. Every year my husband buys me at least one gift with a Bronte theme. So as a lifelong lover of all things Bronte, what would I recommend for the Bronte-lover in your life? These gifts cater for all budgets but most are relatively modest.

BRONTE PARSONAGE MUSEUM ONLINE SHOP
The Bronte Parsonage Museum Shop has undergone quite a revamp recently. It sells some excellent items perfect for gifts for the Bronte lover.  
From books to mugs to jewellery and dvds. 

Nothing is more romantic for a Bronte lover than a copy of Charlotte Bronte's ring. My husband bought me this for my birthday a year ago and it was a wonderful experience to open my gift at the Parsonage.  
My personal favourite but it is expensive. 
Amanda White is a visual artist working in naive style – in collage. Until a few years back she was a dedicated acrylics-only painter (and occasional printer) but a chance encounter with a pile of her daughters' glossy fashion magazines dumped beside the rubbish bin encouraged her into exploring the wonderful world of cut paper collage …
Her inspiration comes from browsing in books, mooching in museums and poking around in historic houses. She loves history, folk art, English literature (especially the English Romantics, the Brontës and the Bloomsbury Group), the countryside, the sea, cats, horses and far too many artists to mention here.

Etsy has a huge amount of Bronte related items from some very creatve people. I found a very talented lady named Penelope, who uses a silk screen to print onto sweatshirts. This quote from Jane Eyre really caught my eye 'I am no bird and no net ensnares me.' I purchased my own sweatshirt as I wanted to see what the quality was like. This jumper is so soft and comfortable and I have never seen anyone else wearing one. It is  uniquely stenciled by hand.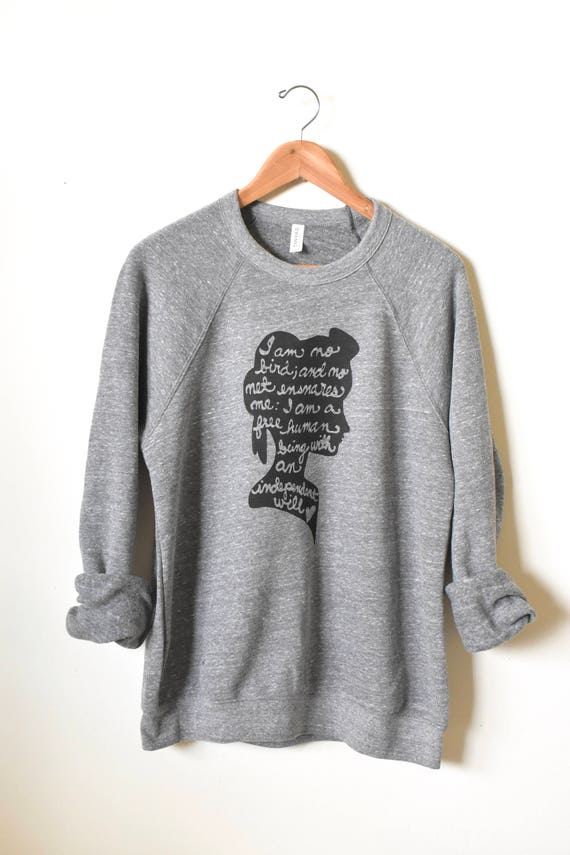 The jumper is very reasonably priced for the quality. They retail at about £28 but do allow for postage and packaging as the seller is located in sunny California.  Any Bronte lover would be overjoyed waking up to this as a present. It is something that I will treasure for many years. There is still time to get our orders in before Christmas.
There is also a beautiful shop in Haworth called Wave of Nostalgia and they now sell many quirky and unusual gifts online. 

I bought some of their lovely notebooks and stationery items for gifts as they have some beautiful Bronte themed items, as well as additional  themes such as Frida Kahlo and The Suffragettes.
Jane Booth makes these beautiful mugs. The mugs feature a vintage illustration from an 1890s edition of 'Jane Eyre' by Charlotte Bronte on the front. The illustration is by Edmund H Garrett. The mug has been thrown and decorated by hand and has undergone 3 firings. It is also fully functional for your first cup of tea or coffee in the morning and can go in the dishwasher.  Or it can go on display with all of someone's Bronte souvenirs. The mugs cost £24 which is a very good price for a handmade item. On the reverse is the following text (said by Jane ) 'I am no bird; and no net ensnares me! I am a free human being with an independent will.." This is one of my favouite quotes.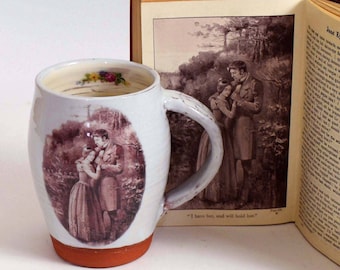 BOOKS
Nick is a passionate Bronte fan and writes a very popular blog about the Brontes. This book finally explores and demystifies the much-maligned character of Elizabeth Branwell, the maternal aunt of the Bronte Sisters. When their mother died in 1821, Elizabeth helped to raise the family of six children. She is frequently portrayed as a very strict figure because of Elizabeth Gaskell's portrayal of her in The Life of Charlotte Bronte. However, Nick believes that "it is certain that without her there would be none of the Bronte books that we treasure today". I am a huge admirer of Nick's writing and this book does not disappoint. It does much to show us the real Elizabeth Branwell as well as her impact on her nephew and nieces. I sat down to
have a brief flick though and found myself drawn in by the quality of writing and research. Once again I could not put the book down.
Currently on offer at £10.39 from Pen and Sword Books.
Stephen Whitehead is a very gifted writer and this novel has to be one of the best fictional retellings of the Bronte Story.  This is the story of Charlotte Bronte's widower; Arthur Bell Nicholls,  a man who found himself in the heart of one of our greatest literary families. In this novel Arthur is far more than just Mr Charlotte Bronte. It details his life in Haworth as curate to Patrick Bronte and his relationships with the rest of the family. The writing flows beautifully with its Yorkshire dialect and attention to factual detail. There is much poignancy and emotion in here  especially in retelling many tragic events.
For something truly original why not commission an artist to paint something related to the Brontes or Haworth? Andrew is an artist living in France. His works are based on a fusion of photography and painting, using acrylic paintwork and collage. Andrew's
work is unusual, demonstrating an expressive, childlike yet urban style.  Andrew painted this beautiful image of Haworth for me.  It is hanging in my study.
What if you want to make your children Bronte lovers?
Jane Eyre graphic novel I bought my daughter this book from the Parsonage gift shop during the Summer and I am pleased to see that it is also available online. It is the perfect introduction for children who are confident readers. My daughter originally read the Usborne Jane Eyre as a very young child and has loved the story ever since.  You can also buy some beautiful gifts from The Parsonage shop for children. My children love all the notebooks and of course the soft toys too. Or why not consider a beautiful Wuthering Heights colouring book?
There are some other items to consider for Bronte lovers such as a year's subscription to the Bronte Society costing from £12.50 for students to £25 for adult member. 
Or why not consider a membership of another society such as the Elizabeth Gaskell Society?  Elizabeth Gaskell wrote the first biography of Charlotte Bronte and the society is incredibly welcoming and active. 
Or if you have far too much money to spend then consider buying a First Edition of a Bronte novel. I have seen a rare first edition of Jane Eyre for a mere thirty-five thousand pounds on E-Bay.  But for now I think I'll stick with my Bronte notebooks and bookmarks !
Have a Very Happy Bronte Christmas!