Anyone who has seen the second season of the hugely popular Netflix true crime show, Making a Murderer cannot fail to be impressed by the fiercely intelligent lawyer, Kathleen Zellner. Dressed in her razor-sharp suits, poker-straight hair, with just a touch of glamour, and exuding a kind of Emma Peel from The Avengers vibe, Kathleen is a lawyer of the highest calibre who specialises in having wrongful convictions overturned. In her career, she has obtained the exoneration of nineteen wrongfully convicted men. She has recently agreed to take on the case of Steven Avery to have his conviction overturned.
The Netflix series is compelling viewing. The first series told the story of Steven Avery; a scrap-dealing hillbilly and petty criminal from Manitowoc County, Wisconsin, who had been imprisoned in 1985 for a serious sexual assault and attempted murder. After serving eighteen of his thirty-two years, Steven Avery was released when DNA testing proved that he did not commit the crime. Steven was due to receive a huge pay-out from Manitowoc County for wrongful imprisonment when suddenly in a monumental twist, young photographer, Teresa Halbach is reported missing. Her last known appointment was at Avery's scrap yard and her Rav 4 is found at the yard, partially concealed. Bloodstains found in the car match Avery's DNA and bone fragments are also found near a firepit in his yard. He is charged with her murder. His nephew, Brandon Dassey, who has limited intelligence and is sixteen at the time, is interrogated by the police with no legal representative or appropriate adult. Brandon confesses to being present when Teresa was raped and murdered. Steven Avery believes that he has been framed to stop Manitowoc County from having to pay out for his previous exoneration.
In the first series, we see the full court case, which finds Avery and Dassey both guilty. Yet this is not a simple case. We see many examples of evidence that simply do not add up. For example: an evidence box containing a vial of Avery's blood, collected in 1996 during his appeals efforts, has been unsealed and a puncture hole is visible in the stopper. Has some of his blood been deliberately planted in Teresa's car? Ken Kratz, the leading prosecution lawyer, who is incredibly obsequious and devious, seems to be holding a personal vendetta against Avery and is later accused of being involved in a 'sexting' scandal.
The second series deals with the aftermath of the guilty verdict and looks at both Dassey's and Avery's attempts to appeal their guilty verdicts. In January 2016 Kathleen Zellner agrees to take on Avery's case. She boldly states,
"If you are guilty, I will do a way better job of finding out you are guilty than any prosecutor could." Her methods are reminiscent of Sherlock Holmes; observation, forensic science and logical reasoning. She re-examines every single piece of evidence. For example: She purchases a car identical to Teresa Halbach's Rav 4. She undertakes a series of experiments to see if the blood splatter pattern on the original car would be reliable or if there is a possibility that it has been fabricated. She devises timelines, checks and rechecks witness statements and looks at everything with the finest of tooth-combs until she is no doubt herself what happened on that day. It is not enough for Kathleen to consult the firearms experts. She needs to shoot the guns herself. She doesn't rely on the scientists collecting samples, she must get the blood scraping evidence. Kathleen leaves no stone unturned in her relentless search for the truth; whether that means forcing her way by a crowbar into Dasey's former home or dismantling a bathroom washbasin. This is what makes her such a fascinating and charismatic subject. I have one goal and that's to overturn the conviction of Steven Avery," she says on the show.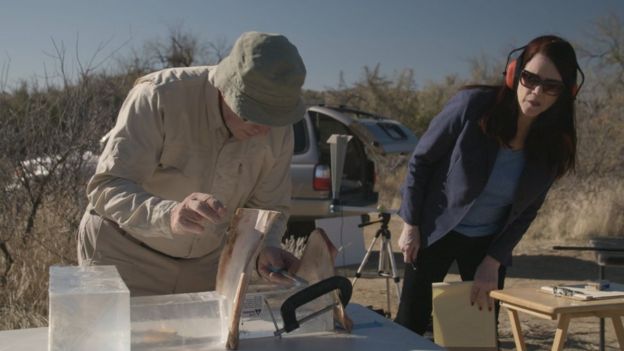 "It does not matter how long it takes, what it costs or what obstacles we have to overcome – our efforts to win Mr Avery's freedom will never stop." I have every confidence that she will eventually get to the bottom of this case.
As part of her quest for the truth, Kathleen spends time with Steven's family. The toll this has taken on Steven Avery's Mother is evident from her heavily-lined and battered face and her inability to do the simplest of daily tasks. She seems to get by on a diet of supportive letters from her son's vast army of Worldwide supporters, who believe that this is either a huge miscarriage of justice or a set-up by Manitowoc County. We may never know if Steven Avery did kill Teresa Halbach. There's certainly enough evidence on both sides of the argument, as well as a multitude of conspiracy theories. The show does not seek to give us a definitive answer. Yet what it does so well, is show us the intricate and complex dealings of the federal and state justice systems and for that reason, it is truly fascinating. And as for Kathleen Zellner…. She's playing one of the most spellbinding roles on television today. Give her a watch. You won't be disappointed.