#Blogtober Day 3
My first introduction to Judy Garland was watching her as a small child in the film The Harvey Girls. I thought she was the loveliest actress I had ever seen and when she sang…it was pure heaven.
No one could show such emotion in their singing. I am sure that many of you will know her from The Wizard of Oz and her torch song, 'Somewhere over the Rainbow.' Lady Gaga has recently starred in a remake of A Star is Born which many consider to be Judy's greatest role. Marred by scandal and tragedy, most people tend to focus on the destructive personal life of Garland: on her many marriages and drug dependency. But Judy Garland was and still is, far more than that. She had one of the most powerful and expressive voices ever heard and none could ever convey such tragedy in their singing, which she sang as though it was effortless. Who can ever forget her powerful vibrato in 'The Man Who Got Away'? Perhaps that is why she has become such a gay icon over the years as only Judy could convey the sheer torment of heartbreak?
Garland was born into showbusiness. It ran through her veins and her every pore. She was the child of vaudevillians who ran a movie theatre. Her mother was the archetypal showbusiness pushy mother who wanted her three daughters to become famous and thus made them perform to audiences at the theatre. Yet it was Judy who people wanted to hear sing, rather than her other two sisters. At the tender age of thirteen, she was spotted by a talent scout for Louis B Mayer and he signed her up to appear in movies. She was at a difficult age for movies as she was far too old to be a child star and yet too young to be a leading lady. She was only just over four feet eleven and had puppy fat. It didn't help that Mayer referred to her as his 'little hunchback.'
Judy was eventually teamed with Mickey Rooney and together they appeared in several films. She was always cast as the 'girl next door' type rather than the glamorous leading lady. Studio days were long and exhausting for Garland. She was given amphetamines to keep her going during the sixteen-hour days and then barbiturates to bring her down in the evening. She was also placed on extreme diets to keep her weight down. All of this had a detrimental effect on her growing up and resulted in a life-time drug dependency.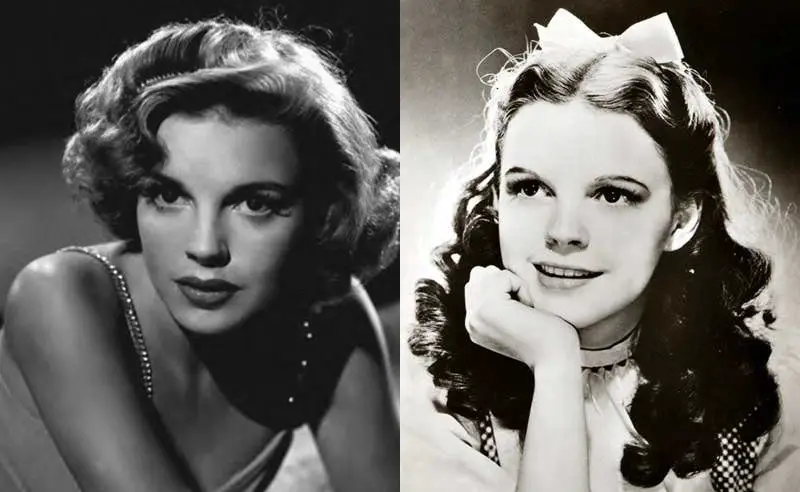 In 1939 Garland was cast as Dorothy Gale in the movie, The Wizard of Oz. Originally Shirley Temple had been first choice to play the lead, but MGM were unsuccessful in their bid to loan her from Twentieth Century Fox. Now it seems almost impossible to imagine any other actress in the role. The song 'Over the Rainbow' was forever associated with Judy and even now few artists will sing it, as it so uniquely tied to Garland.
As she matured, Garland remained with MGM and continued to create great and critically acclaimed roles including the film, Meet me in St Louis directed by Vincent Minelli, who she eventually married. Garland was becoming increasingly erratic in her work. She frequently turned up late, if at all, and was plagued by mental health issues caused by overwork, as well as addictions to alcohol and drugs. She was considered too much of a liability to continue in films. MGM terminated her contract and she wasn't even thirty.
Garland needed to earn money, so she began to appear on stage on tour. These early concerts were hugely successful and led to her deciding to produce and star in a remake of the film, A Star is Born, Original previews of the film showed that it was far too long. In those days, cinemas needed to put on a film at least five times a day to make a profit. The lengthy film had to be slashed by thirty minutes to appease cinema owners. In doing this, the film lost much of its essence and possibly did not do as well financially as it needed to. Although Garland was nominated for an Oscar, the award went to Grace Kelly instead.
Throughout the sixties, Garland moved to television shows and specials and continued to tour to try and support herself and her three children. There were incredible highs, such as her performance at Carnegie Hall in 1961. The album spent over thirteen weeks at number one. The televised Judy Garland Show showed a more mature Garland to audiences and enabled her to team up with other great singers and performers such as Frank Sinatra and Barbra Streisland. But there were equally many lows such as a disastrous tour of Australia in 1964 when Garland was accused of being drunk during performances. She was given a lead role in The Valley of the Dolls but was fired after only a few weeks, because of her erratic behaviour. Garland seemed to be forever in debt and would regularly have to flee from hotels in the middle of the night, to avoid paying her bill.
Judy Garland died in London in June 1969. Her cause of death was an accidental overdose of barbiturates. She was only forty-seven but looked much older. It was as if she had tried to squeeze in several lifetimes to one life. Her remains were recently moved from New York to Hollywood Forever Cemetery.
Many may feel that Garland's personal life overshadowed her talent and career. However, even now nearly fifty years since her death, her talent shines on and she is still adored by many fans worldwide. She's been the subject of many biographies, several films and television shows and Renee Zellweger is about to portray her in a new biopic, Judy, about the period in the early sixties when she performed onstage. Every Christmas, The Wizard of Oz is shown to new generations.
As one critic Doug Strassler, wrote of her in the New York Times as recently as 2012, she was…
"more than an icon… she created a template that the powers that be have forever been trying, with varied levels of success, to replicate."
If you are ever in any doubt, go and listen to some of her songs on YouTube. Then you will know what an incredible artist she was.