You know it's not all it's cracked up to be, being a redhead. As a child I had hyper sensitivity to most things. My Mum used to have to cut out all labels on my clothes as these provoked a serious rash. I could only ever have cotton bed linen and if I went out in the sun, I would develop huge blister like spots on my skin, even with sun screen. This was the seventies when just about every item of clothing was made of some form of nylon. When I had my ears pierced, I could only ever wear gold. I was allergic to just about everything. It was a nightmare.
My eyes have always been highly sensitive, and I frequently suffer from allergic reactions, watery eyes, blepharitis and conjunctivitis. When I was about thirteen, I decided with my friends to try wearing a bit of Rimmel blue eyeliner on the inside of my eyes. Well, it was all the rage in the eighties! By the time I arrived home, my eyes were vividly red and swollen and I looked as though someone had punched me quite hard in the face. I knew my Mum was going to be mad with me.
Fortunately, I think my mum realised that I had learnt my lesson with all the irritation and soreness.
"In future" She advised," if you want to use make-up then ask me first and we can try something that won't cause such a reaction." A few days later she tried out a very small amount of Clinique on my skin. Unlike the Rimmel, there was no reaction.  Thus, it was, that since the age of thirteen, I have been a fan of the brand. Occasionally I have foolishly thought I could try something else. I've tried Yves Saint Laurent and Charlotte Tilbury eye palettes in my quest to have glitter on my eyes. I really don't know why I bother, as within seconds I am desperate to rub my eyes and they become inflamed.
In terms of skin care, I am unable to tolerate most moisturisers or cleansers. I stick to a wet flannel with a very weak solution of baby bath and I remove my make up with this or with a water wipe. I'm not sure whether this is the reason why my skin looks very good for someone who is almost fifty or if it is down to good genes. I sometimes have redness on my cheeks but this is again caused by over-heating.
As I have gone into the menopause, the sensitivity from my childhood, which abated for a while,  seems to have returned with a vengeance. I spend most evenings with a wet cloth across my eyes to stop them from causing me to itch. I'm permanently hot, and so I have had to change my make-up to accommodate this.

So what Clinique products would I recommend?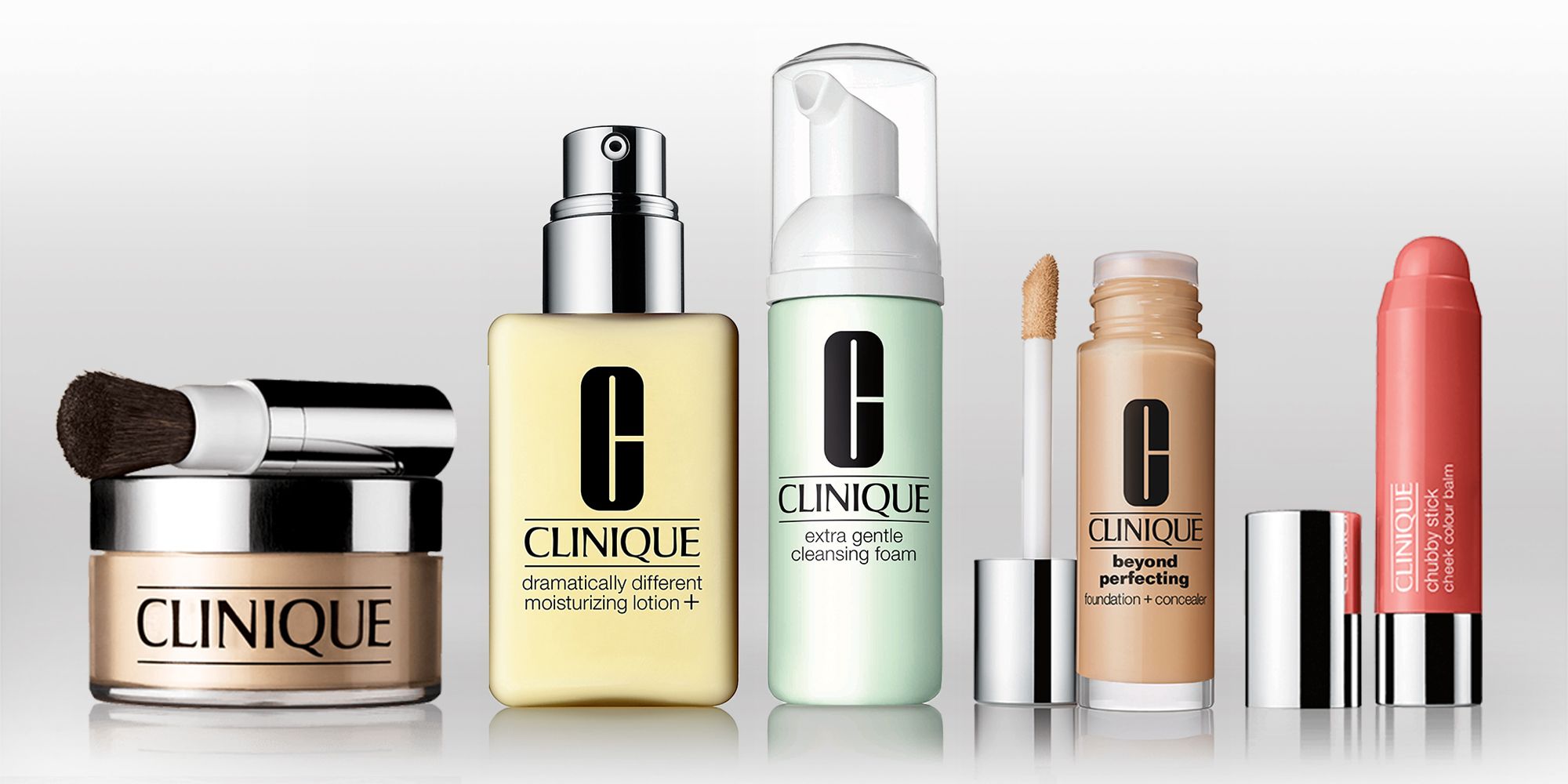 CliniqueFIT™ Workout Makeup Broad Spectrum SPF 40
I never used to wear foundation as I have always had blemish free skin. However, now that I am nearly fifty, I feel that I need something to even out my skin tone. This is a very light foundation and enhances the skin rather than masks it. It is quite liquidy  ,but I find that it stays on really well. It's great for hot flushes too!
Dramatically Different Moisturizing Lotion+™
It is very rare that I use moisturiser on my face, but this is so light that it is one of the few moisturisers I can use without a reaction. It is very light and can be used as a hand-cream or on the body. It has been the only moisturiser I have been able to use since I was thirteen.
For those of us with sensitive eyes, mascara is that one product that can really inflame eyes. I'd love to have really long and thick lashes but this is the only mascara product I can wear. It is very light wearing and it doesn't make eyelashes stick together.
Pretty Easy™ Liquid Eyelining Pen
Again, this is a very light wearing product and unlike most eyeliners it does not cause eyes to sting. Clinique discontinued this product for a while but I am so glad that they decided to bring it back. It goes on easily too and is perfect for creating straight lines.
All About Shadow™ Singles
I love Clinique eyeshadow. It is one of the few eyeshadows I can use that does not cause a reaction. There is a wide variety of colours and I like the fact that you can buy individual colours. I would love to be able to wear glitter, but this really does provoke a reaction in hyper-sensitive skin.  I suppose it is the price you pay really. Clinique also do a range of bright coloured eyeshadows called Lid Pop™ . These again are great for my sensitive eyes and enable me to try bright colours.
Make-up hygiene is vital when you have hyper sensitive skin. I use cotton buds to apply my eye make-up and I wash my brushes thoroughly after each use to prevent any infection.
Marimekko x Clinique Pop Splash™ Lip Gloss + Hydration
I absolutely love this lip gloss. On the lips it is not as bright. The lip gloss is very hydrating and is perfect in Winter when lips can be dry. My favourite colour is the Pinot Pop.  It's a dark pink / red mix.
Surprisingly in the Winter I can have my eyebrows and lashes dyed. However, my beauty therapist only leaves the dye on for a fraction of the time to prevent a reaction.  This is impossible though in the Spring and Summer as I suffer from hay fever.  If you do have hyper-sensitive skin it is also worth taking an antihistamine. I find that this has helped a great deal with what my skin will tolerate. It's also essential to take off every scrap of make-up before going to bed and rinse the eyes fully with a water eye bath.
So, as you can see, if I didn't have Clinique I don't think I'd ever be able to wear make-up.