51 years ago today, on the 9th August 1967, Joe Orton was murdered by his partner, Kenneth Halliwell.
The Year was 1992 and my brother had discovered a book that he was desperate to share with me.
"You've got to read this, kid." He advised, "This book is utter genius, as well as hilarious." He showed me a book edited by John Lahr. It was called The Joe Orton Diaries.
My brother then proceeded to read aloud some of the hilarious entries detailing Joe's daily life and interactions between 1966 and 1967, when he was just starting to taste fame as a playwright. Joe Orton was also a promiscuous homosexual, who regularly picked up men in public toilets or even at bus stops. His diaries detail these liaisons in an equally hilarious albeit crude, manner.
I couldn't remember if I'd heard of Joe Orton, but I did seem to remember watching the film of his play, Entertaining Mr Sloan, in the eighties and finding it both unsettling and yet highly compelling. I began to read the diaries. It was not long before I shared my brother's passion and enthusiasm for them.
Joe Orton was born in Leicester in 1933. He came from a very working-class background. Upon leaving school, he took elocution lessons with a formidable character named Madame Rothery,  with a view to becoming an actor. In 1951 he successfully auditioned for RADA and whilst there he met Kenneth Halliwell. They began a relationship that was to last for the rest of their lives.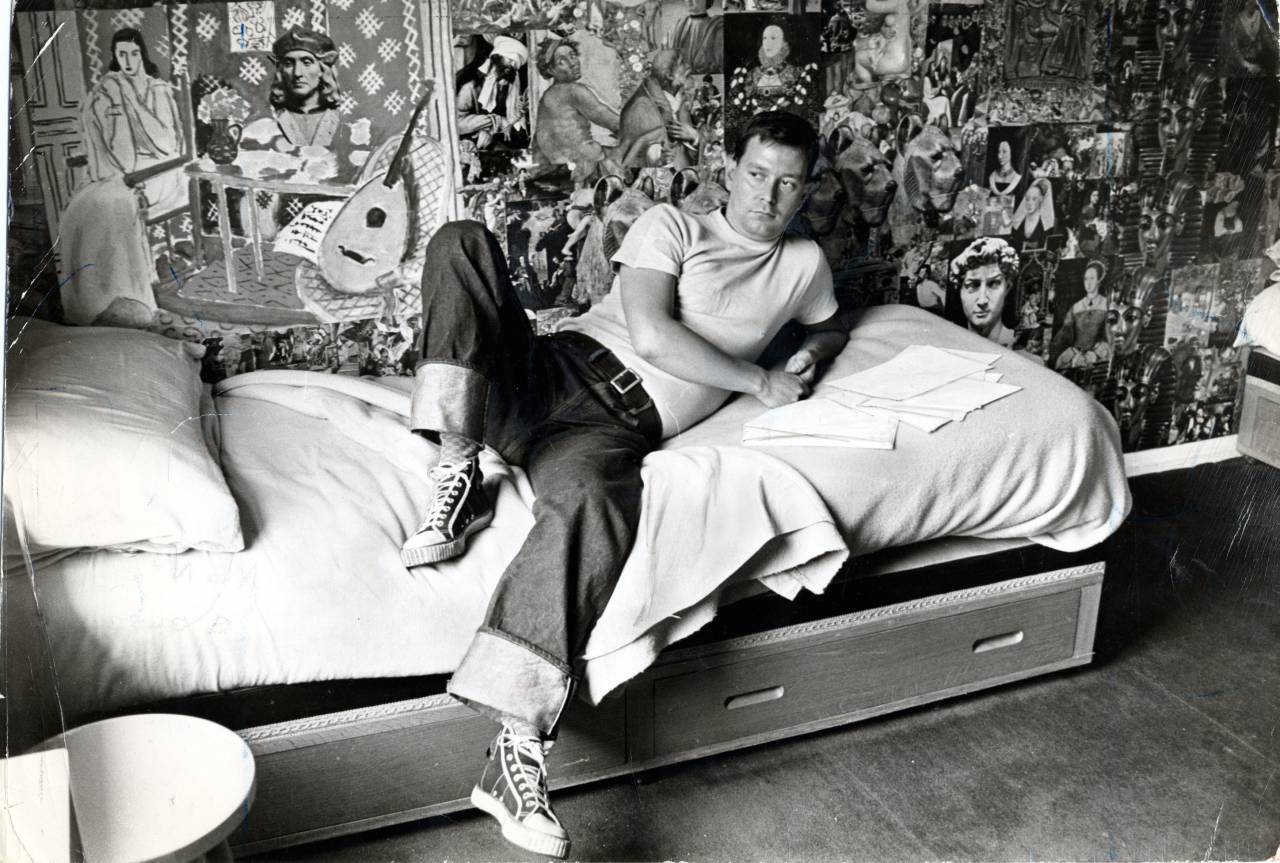 Halliwell had a good education and passed on much of his knowledge of classics and literature to Orton. As they began living together in a cramped bedsit, this marked the key period of Orton's education. They then began to collaborate on writing novels with such bizarre titles as, Lord Cucumber, The Mechanical Womb, The Last Days of Sodom and The Boy Hairdresser. All were rejected by publishers.
They were fortunate in that Halliwell had a small inheritance to support them, however, this led to periods of inactivity and boredom. To give themselves something to do, they began to take books from the library and doctor them by sticking on unusual pictures or by amending the blurbs. Without a doubt, these doctored books are incredibly witty. For example; on a book of poetry by John Betjeman, they changed the cover to depict an elderly and tattooed man in his underpants.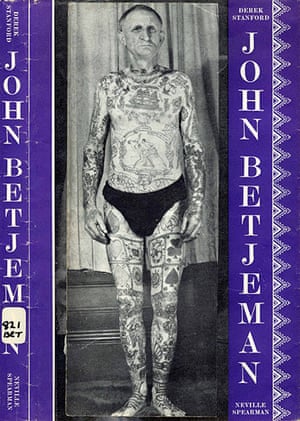 On the blurb for a Peter Wimsey book, Clouds of Witness, readers are advised to "read behind closed doors and have a good sh** while you are reading!" A book on The Great Tudors has superimposed images of monkeys and comedic actors on the monarchs' faces. Much of the surrealism of the library book covers is almost Pythonesque. Although of course, this was about a decade earlier.
Apparently, the library books were defaced as a protest about the poor choices of books available in libraries, as well as a desire to shock and provoke a reaction. This was in an age of censorship and a strict moral code, Orton and Halliwell were arrested and charged with theft and malicious damage and were both sentenced to six months in prison in 1962. The irony being, that now these books are on display at Islington Local History Museum.
Orton also created the character of Edna Welthorpe, an elderly theatre snob who was a kind of caricature of Mary Whitehouse. Edna wrote goading letters to authority, revealing Orton's wicked sense of humour and was later reused by Orton to criticise his plays. Orton was clearly ahead of his time in this respect, believing that there was no such thing as bad publicity.
Prison had been good for Orton. He was able to write without Halliwell and he began to concentrate on plays. In 1963 he was paid by the BBC for The Ruffian on the Stair and this led to Entertaining Mr Sloane. He was taken on by the formidable agent, Peggy Ramsey, who represented many leading dramatists. This was followed by Loot. Orton started to become famous and appeared on television panel shows. He had even written a script for a Beatles' film. Peggy Ramsey had encouraged Joe to keep a diary during these years and there are many who feel that this was his greatest work.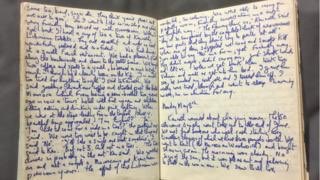 As Orton's star was in ascendency, then Halliwell became increasingly paranoid and bitter. He felt that his contribution to Joe's success had been ignored. He was also suffering from mental health issues and was on a cocktail of antidepressants and barbiturates. There was talk that Orton wanted to separate from Halliwell but was fearful of the impact on Halliwell's mental health. One night in August 1967, Halliwell bludgeoned Joe to death before taking an overdose. Leaving only a brief note stating,
"If you read his diary all will be explained. KH. PS Especially the last part."
The coroner reported that Halliwell had died prior to Joe and thus Joe's estate went to his family rather than Halliwell's.
Despite his premature death, he left an incredible mark on the world of theatre. The adjective Ortonesque is used to refer to work noted for its dark yet absurd cynicism. Orton was an instrumental figure in questioning the previously rigid and hypocritical morals of the establishment. He was one of the first playwrights to use black humour, bad taste, and surrealism. He also questioned attitudes towards homosexuality at a time when it was still illegal. 
Yet more than anything else, his diaries and his incident with the library books, were pushing the boundaries of comedy and showing us how funny rebelliousness can be.
Last year – 2017 – was the fiftieth anniversary of Joe Orton's death. As part of the commemorations, the University of Leicester organised several exhibitions. One exhibition was mounted at both the Museum of Contemporary Art in London as well as at the New Walk Museum in Leicester. This exhibiton looked at the impact of Joe on contemporary art.
David Lock is the nephew of Joe Orton. Sadly, he was born after his Uncle's death but Joe has heavily influenced his work as an artist. David produced a piece of art entitled 'Looted' for the exhibitions.
You can read more about David's work here: http://www.david-lock.com/
An exhibition was put on at the National Justice museum in Nottingham (my home town) through a crowdfunding project. This exhibiton centered around Joe's prison sentence for defacing and stealing library books, finding success as a playwright and the way he lived his life as a gay man when it was still illegal to be homosexual. I was thrilled to be involved in this exhibition and as a thank you we were invited to the University of Leicester in September 2017 to see the Joe Orton archive.
Further Research: 
Lahr, John, 1978. Prick Up Your Ears: The Biography of Joe Orton, London: Bloomsbury.
Joe Orton, 1986. The Orton Diaries. London: Methuen.
Shepherd, Simon, 1989. Because We're Queers: The Life and Crimes of Joe Orton and Kenneth Haliwell, London: Gay Men's Press.
Leonie Orton. 2016 I had it in me. Quirky Press.
The Film Prick Up Your Ears with Gary Oldman as Joe Orton.
http://www.ednawelthorpe.co.uk/
This is a tribute to Joe Orton by Dr Emma Parker and Chris Shepherd. You can hear some of Edna Welthorpe's original letters read by Alison Steadman and you can also try and write your own letter.
http://www.joeorton.org/  Website devoted to the life and work of Joe Orton
The University of Leicester holds the Joe Orton archive. If you ever have chance to visit then do go. It is fascinating. You can see some of the diaries and Joe's scrapbooks.